The University of Wisconsin-Green Bay takes a big-picture approach to education, accounting for your unique way of learning, your passion, and your perspective.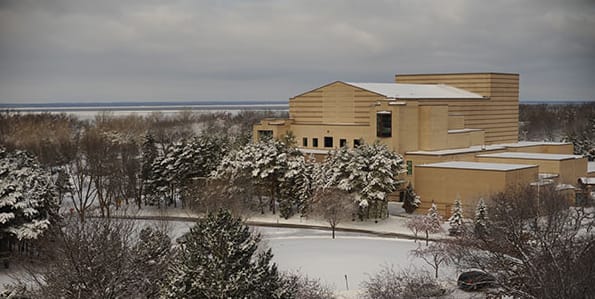 Get out of the classroom and into the field, with real-life internships and graduate-style research opportunities. Be challenged to look at problems and solutions from multiple perspectives. Gain hands-on experience by working closely with outstanding faculty members.

Become enriched through impressive internship opportunities; get a job that pays in multiple ways as a student employee on campus; have fun with like-minded people by joining one of our 100+ clubs and organizations; make the most of your college years living on campus; become a leader through student government; better your world with community service; and see more of it via our many opportunities to study and travel around the globe.

Employers believe UWGB's approach to higher education - studying our world from multiple viewpoints - is a better way to prepare for a 21st-century career. We believe it's a better way to experience college. The numbers support this: 97% of our students are employed, in grad school, or in the military within six months of graduation. In careers and in the community, graduates of UW-Green Bay impact the lives of others in positive ways. That's an education that transforms.
Living in the UW-Green Bay Community
Everyone knows that Green Bay is known for Lambeau Field and the Packers, but the city also thrives with other professional and recreational sports, high-tech industry and manufacturing, and a wide range of opportunities in the arts.

UW-Green Bay enjoys a park-like setting overlooking Lake Michigan's bay of Green Bay. At roughly one square mile, the campus is among the largest in the state. Much of the acreage is devoted to natural areas, with the central campus bordered on one side by the bay and on the other by the heavily wooded Niagara Escarpment. About 2000 students live on campus. Students find an abundance of leisure-time options, including NCAA Division I athletics and performances by big-name entertainers at the Weidner Center and Kress Events Center. Leadership opportunities exist through the Student Government Association. The student Good Times Programming Board provides social, cultural, recreational and educational programming. Students find recent Hollywood blockbusters and college classics on the popular film series, and acts including comedians, hypnotists and up-and-coming bands on the concert calendar. More than 125 clubs and organizations focus on special interests.


UWGB Arts & Performances
At UW-Green Bay, you will find a campus that values visual arts and performance. Our engaging faculty members prepare students for professional careers in studio art, photography, graphic design, arts management, art history, art education, music, music education and theatre and dance. Students perform and exhibit their work in top-notch facilities including the lauded Weidner Center for the Performing Arts and the esteemed Lawton Gallery, as well as in smaller venues and studios.


Locations
Green Bay
Address
University of Wisconsin-Green Bay
2420 Nicolet Dr

WI 54311
Green Bay
,
Wisconsin
,
USA