Who We Are
Manhattan College was founded in 1853 by the Brothers of the Christian Schools, a Catholic teaching order started by Saint John Baptist de La Salle. The Lasallian mission drives our focus on quality education for all and service to our neighbors in need. Our picturesque campus is located in The Bronx, a 35-minute subway ride from the heart of Manhattan.
Our Vision
Grounded in tradition, Manhattan College produces exceptional graduates who not only go on to lead successful careers but also make a positive impact in the world. The transformative Jasper education is built on a strong liberal arts foundation and paired with hands-on, technical knowledge that evolves and adapts with our world. Guided by history, faith, and strong leadership, Manhattan continues to climb in national rankings as a top-valued school.
Mission
Manhattan College is an independent Catholic institution of higher learning that embraces qualified men and women of all faiths, cultures, and traditions. The mission of Manhattan College is to provide a contemporary, person-centered educational experience that prepares graduates for lives of personal development, professional success, civic engagement, and service to their fellow human beings. The College pursues this mission through programs that integrate a broad liberal education with a concentration in specific disciplines in the arts and sciences or with professional preparation in business, education, and engineering.
Established in 1853 by the Institute of the Brothers of the Christian Schools, the College continues to draw its inspiration from the heritage of John Baptist de La Salle, the innovator of modern pedagogy and patron saint of teachers. Among the hallmarks of this Lasallian heritage are excellence in teaching, respect for human dignity, reflection on faith and its relation to reason, an emphasis on ethical conduct, and commitment to social justice.
Academics
Carnegie Classification
Master's Colleges & Universities
Accreditations
Manhattan College is accredited by the Middle States Commission on Higher Education
The School of Education and Health is accredited by the Teacher Education Accreditation Council (TEAC).
The School of Business is accredited by The Association to Advance Collegiate Schools of Business (AACSB) International
The undergraduate engineering programs are accredited by the Accreditation Board for Engineering and Technology (ABET, Inc).
Schools
Business
Continuing & Professional Studies
Education & Health
Engineering
Liberal Arts
Science
Popular Professional Development Programs
Intensive English Language Programs
ESL Two Week Programs
Online and Self-Paced Programs
Summer Camps for K-12
NYC is Your Classroom Certificate Programs


Campus
23 acres in size
2 campus areas connected by a student commons building
Located in the Riverdale neighborhood of the Bronx
10 miles from midtown Manhattan
Marks of Distinction
Honor Societies
1 of 286 institutions in the United States with a chapter of Phi Beta Kappa, the nation's oldest and most widely known academic honor society
5 distinguished national honor societies — Phi Beta Kappa, Sigma Xi, Kappa Delta Pi, Tau Beta Pi, Beta Gamma Sigma
Alumni
Notable alumni include:

James Patterson '69, best-selling author
Raymond Kelly '63, former commissioner of the New York City Police Department
Rudy Giuliani '65, former mayor of New York City

18 alumni are members of the prestigious National Academy of Engineering
Rankings
U.S. News & World Report ranks Manhattan 15th out of 138 in the Best Regional Universities (North) category of its 2018-19 Best Colleges list. This is the 12th year in a row the College has placed in the regional top 20.
U.S. News & World Report ranks Manhattan College as 8th among 52 regional universities that are attractive colleges for veteran students.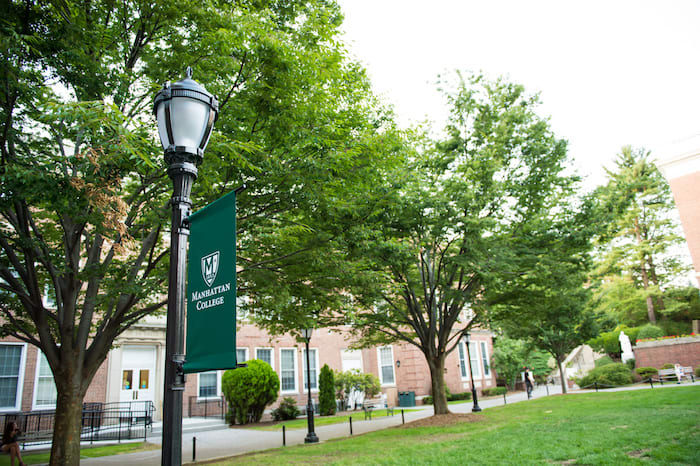 New York City Location
Manhattan College offers students the best of both worlds: a beautiful campus with a close-knit community and homey atmosphere, plus easy access to the most exciting city in the world — New York.
Many colleges and universities in this region boast about their proximity to New York City, but at Manhattan College, we offer a truly unique location. We are within the boundaries of New York City and our campus is next door to a subway stop. But unlike many other New York City schools, we have a true college campus — 23 acres centered around a quad where our students play Frisbee, study under the sun and hang out with friends.
Riverdale: An Oasis in New York City
Nestled in the historic neighborhood of Riverdale, our lovely campus in the Bronx is close to dozens of restaurants and shops, as well as Van Cortlandt Park, one of New York's largest parks. Best of all, we're only 35 minutes from midtown Manhattan. Our unbeatable location offers a unique and safe way to take advantage of all New York City has to offer. You'll get a true college campus experience while also having easy access to the jobs and internships found in New York City, plus all of the amazing cultural experiences found in this city.
Tour the Neighborhood
Watch this video to learn more about Manhattan College's beautiful Riverdale location and some of the amenities and opportunities the neighborhood offers.
Why is Manhattan College in the Bronx?
So why is Manhattan College in the Bronx? Our campus was originally located in Manhattan at the intersection of 131st Street and Broadway. In 1923, Manhattan College moved to our present Riverdale location in order to accommodate a growing student body. But with more than 60 years of history established as Manhattan College, the institution decided to retain the name despite the geographic misnomer.
The World's Greatest City
There's no place like NYC and our students take full advantage of all that this city has to offer. More than half of students do an internship with many of these leading to full-time employment after graduation. You'll have a distinct advantage when it comes to getting internships and jobs because of our access to New York City and the multitude of companies headquartered here. And many of our professors use New York City as a classroom with fields trips to sites such as Wall Street, the Museum of Natural History and the United Nations.
We also offer programs to help you have fun in the city! See a new site each week with Saturdays in the City, a weekly series of trips around NYC organized by the residence halls. Or join the SoNYC club to do fun things like a bike ride through Central Park or a dessert crawl through the East Village. And our Office of Student Engagement routinely offers discounted tickets for Broadway shows, Yankees games, and events at Madison Square Garden.
Locations
The Bronx
Address
Manhattan College Parkway,4513
10471
The Bronx
,
New York
,
USA
Programs
This school also offers: