Read more on the institution's website
Top Ranked Private Residential Liberal Arts Experience
Lawrence University is a top-ranked private residential liberal arts college and conservatory of music that is devoted exclusively to undergraduate education. Located in the welcoming Midwestern the state of Wisconsin, with 15% of its 1,500 undergraduates coming from more than 50 countries beyond the U.S., the Lawrence community is one of the most internationally diverse in the country. A proud member of the Colleges That Change Lives the organization, Lawrence is devoted to an engaged learning approach that develops abilities that are highly valued by graduate schools and employers.
Fast Facts
Individualized 9 to 1 Student to Faculty ratio equates to a highly individualized learning experience.
Engaged 99% of Lawrence Students are fully engaged with employment, graduate school, or formal post-graduate experiences within six months of graduation.
Affordable Lawrence is committed to assisting international students in financing their education. International student scholarships and need-based aid is available to all students.
Welcoming On-campus housing is guaranteed in a safe and inclusive community.
http://tour.lawrence.edu/
Programs
Bachelor of Arts with 44 areas of study

Bachelor of Music with 4 overall majors and two areas of emphasis

5-year Double Degree Bachelor of Arts and Bachelor of Music
Engaged Learning at Lawrence
Engaged learning involves challenging and meaningful personal learning experiences with faculty and peers in class sizes averaging 15 students. These active skills of exploring, debating, researching, and creating, will prepare you to adapt and thrive in an ever-changing world.
At Lawrence, our 1,500 students come from the world's largest cities and smallest towns to form a cohesive residential community within a welcoming and safe city. Lawrence students are academically, socially, culturally and economically diverse. They are intelligent, friendly and they thrive on collaboration.
Beyond the main campus, Lawrence offers campus experiences at our serene 441-acre Bjorklunden campus, a retreat just 160 kilometers northeast of Appleton, and our London Centre, nestled in the heart of London U.K., one of the world's most exciting global cities.
A Welcoming Campus in a Welcoming City
Appleton, Wisconsin is a vibrant city of 74,000 that is part of a local region inhabited by over 230,000. The cultural and commercial heart of this region, Appleton appears regularly on lists of U.S. cities that are the safest and have the highest quality of life.
Appleton
Its blend of the cosmopolitan with the natural makes Appleton a true gem—and a place that often surprises our visitors from places like New York, Chicago, Los Angeles, and Denver who were expecting something quite different from a city in northeastern Wisconsin.
About Appleton
With a population of 73,000+ (in a metro area of a quarter million), Appleton is part of one of the fastest-growing metropolitan areas in the Midwest. The area's size, cultural complexity, and breadth of businesses give you ample opportunities for internships, research projects, civic engagement, and community service.
You can get here from there.
ATW (Appleton's airport) is only 6 miles from campus. It serves Appleton by connecting to major hubs on major airlines: United/Continental (through Chicago O'Hare); and Delta (Detroit, Minneapolis, and Atlanta).
About that weather...
OK, we'll admit it can get cold here (average January high/low: 24°F/7°F), and it snows (about 4 feet per winter). But we also know how to deal with it (dress in layers). Winter's payoff: spring is spectacular. Fall is pretty fabulous, too.
Get out(side)!
Running, hiking, cycling, rowing, sitting. If you do any of these things—and there's a good chance that you do at least one of them—you'll have plenty of outdoor places to do them throughout the area: from High Cliff State Park at Lake Winnebago 10 miles from campus, to the northward-flowing Fox River running along Lawrence's edge, to dozens of parks within a two-mile radius of campus.
And if you're a baseball fan, you can catch the Milwaukee Brewers' Class A minor league team, the Wisconsin Timber Rattlers at Time Warner Field, just 6 miles from campus.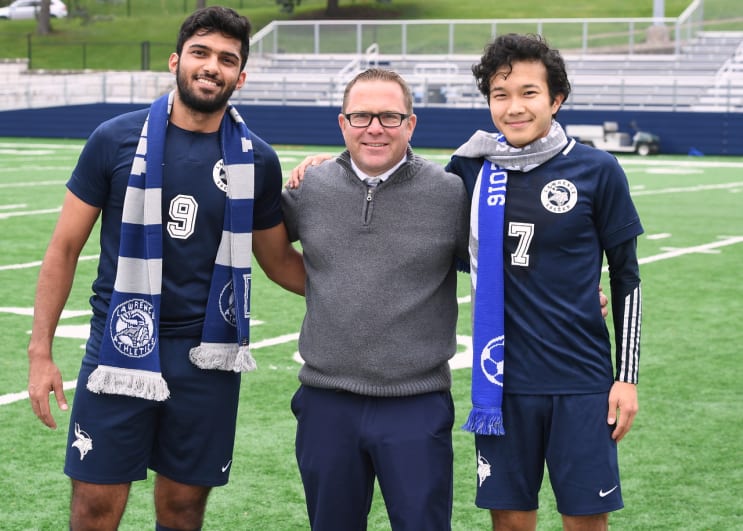 College Avenue
Chicago has the Magnificent Mile. Appleton has College Avenue, with a dizzying array of restaurants (from five-star dining to late-night pizza), a bunch of great coffee shops, and dozens of stores. All of it is right outside your door at Lawrence. And if you need even more shopping, you need only head to the Fox River Mall, just 5 miles from campus.
Show your Lawrence ID card at these businesses to redeem specials and discounts
Broadway on College
A half mile from campus, the Fox Cities Performing Arts Center brings the entertainment world to Appleton. This $45 million jewel seats 2,100 (with the "worst seat in the house" barely 100 feet from the stage). Appleton—not Milwaukee or Madison—has hosted the Wisconsin premieres of The Lion King and Wicked.
The Little Apple is more electric than the Big Apple?
On August 20, 1882, Appleton became the first city to generate electricity commercially. (Two weeks later, New York City became the second city to do so.)
Locations
Appleton
Address
711 E. Boldt Way
Appleton
,
Wisconsin
,
USA