Earlham is a national liberal arts college with a reputation for excellent teaching and preparing students to make a profound positive difference in the world.
Intellectually Challenging
Earlham students take charge of their own learning and are prepared for professional success and admission to top graduate programs. They choose from more than 40 fields of study and are taught by dedicated professors. Classes are small, with rich opportunities for discussion, investigation, and discovery.
Globally Engaged
Earlham is committed to welcoming students from all over the world. Our students come from all over the U.S. and about 80 other countries. In fact, Earlham ranks 6th among national liberal arts colleges in the largest percentage of international students on campus, according to U.S. News and World Report.
Socially Concerned
Earlham students have a sense of stewardship about their lives and believe in their power and responsibility to change the world, according to Colleges That Change Lives: 40 Schools That Will Change the Way You Think About Colleges. About 30% of graduates surveyed reported that most or all of their work was oriented to social change.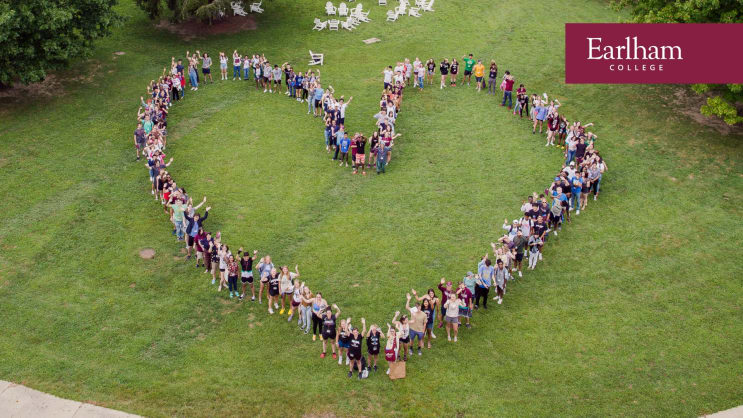 Future Directed
Earlham ranks 29th among 1,306 U.S. institutions of higher learning for the percentage of graduates who go on to earn a Ph.D. In the life sciences, we rank 9th among 1,341 institutions. Fifty percent of Earlham alumni begin graduate school within 10 years of graduation.
A few graduate accomplishments over the past five years
Admission to:
Columbia University
Georgetown University
Harvard University
University of Chicago
University of Michigan
University of Oxford (UK)
Uppsala University (Sweden)
Service to programs like:
Americorps
City Year
Peace Corps
Quaker Voluntary Service
Teach for America
World Teach
Careers as:
Resident Physician, Barrow Neurological Institute
Owner/CEO, NetStuffers LLC
Director of Programs, Junior Achievement
Geologist, State of Michigan
International Relations Coordinator, City of Osaka
Biochemist, BP Biofuels
Gallery Assistant, Art School at Old Church
Support for research or humanitarian work from:
Carnegie Endowment
Davis Projects for Peace
Fulbright Grant
Huntington Public Service Award
National Science Foundation Pre-Doctoral Fellowship
Rotary International Peace Fellowship
Watson Fellowship
Mission Statement
The mission of Earlham College, an independent, residential college, is to provide the highest-quality undergraduate education in the liberal arts, including the sciences, shaped by the distinctive perspectives of the Religious Society of Friends (Quakers).
A basic faith of Friends is that all truth is God's truth; thus Earlham emphasizes pursuit of truth, wherever that pursuit leads; lack of coercion, letting the evidence lead that search; respect for the consciences of others; openness to new truth and therefore the willingness to search; veracity, rigorous integrity in dealing with the facts; application of what is known to improving our world.
To provide education of the highest quality with these emphases, Earlham's mission requires the selection of an outstanding and caring faculty committed to creating an open, cooperative, learning environment. The College provides for the continuous support and development of this faculty.
The teaching-learning process at Earlham is shaped by a view of education as a process of awakening the "teacher within," so that our students will become lifelong learners. Students at Earlham are encouraged to be active, involved learners.
The College provides extensive opportunities for students and faculty to interact with each other as persons, to learn from each other in a cooperative community, an important aspect of which is collaborative student/faculty research.
At Earlham College, this education is carried on with a concern for the world in which we live and for improving human society. The College strives to educate morally sensitive leaders for future generations.
Therefore Earlham stresses global education, peaceful resolution of conflict, equality of persons, and high moral standards of personal conduct.
Leadership & Governance
Earlham encourages open participation from faculty, administration, students and staff in governance processes. In keeping with our Quaker heritage, we seek open ears and open minds during the consultation and expert committees and groups to operate by consensus during decision-making.
Anne M. Houtman, a distinguished educator, scientist, author, and higher education leader, became the 20th president of Earlham College and the Earlham School of Religion on July 1, 2019.
Houtman came to Earlham from Rose-Hulman Institute of Technology, where she served as Provost and Vice President for Academic Affairs. She holds a doctorate from the University of Oxford in Zoology and a master's degree in Anthropology from UCLA. She earned her bachelor of arts degree from Pomona College. Houtman is a Quaker and is the first woman to serve as President of Earlham.
Previously, Houtman served as dean of the School of Natural Sciences, Mathematics and Engineering at California State University Bakersfield, and as Head and Professor at the Thomas H. Gosnell School of Life Sciences at Rochester Institute of Technology. Earlier in her career, she held faculty positions at California State University Fullerton, Soka University of America and Knox College. She has authored numerous textbooks and articles on scientific and pedagogical topics. Houtman is currently a trustee of the College Board.
Campus & History
Earlham's 800-acre campus includes Earlham College and the Earlham School of Religion. Approximately 1,200 undergraduate students call this tree-shaded campus their home.
On the campus, students and visitors will discover a 600-acre stretch of woods, streams, ponds, old fields and prairie used for scientific research and recreation. Additional natural areas are set aside for scientific research, including an old-growth forest and a rock preserve.
Currently, 94 percent of students reside on campus in one of eight residence halls or more than 20 theme and friendship houses.
Between 1998 and 2014, Earlham expanded, renovated, and constructed major campus buildings — including academic, residence halls and athletic facilities — representing an investment of over $40 million.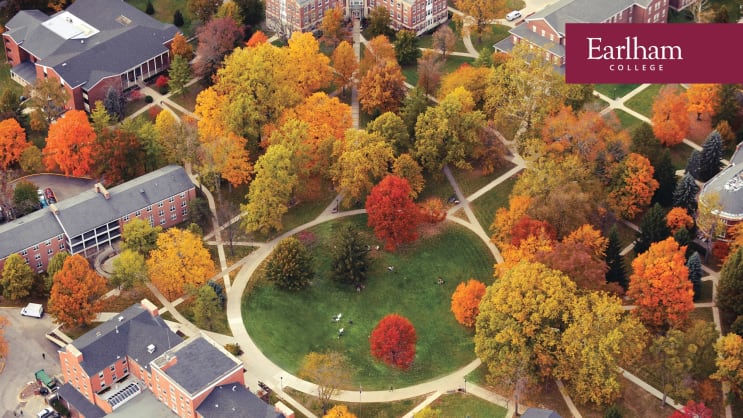 Campus Background
Earlham's historical beginning in Richmond, Indiana, is rooted in the Great Migration of Quakers from the eastern United States in the first half of the nineteenth century. Originally a co-educational "select" school, open only to Friends, by 1865 the school accepted non-Quaker students and hired its first non-Quaker professor in 1886. Today, about 11% of Earlham's faculty and 12% of its students identify as Quakers.
Locations
Richmond
Address
National Road West,801
47374
Richmond
,
Indiana
,
USA