CETA Escola Universitària de Turisme - Barcelona
Home ›
Spain ›
CETA Escola Universitària de Turisme - Barcelona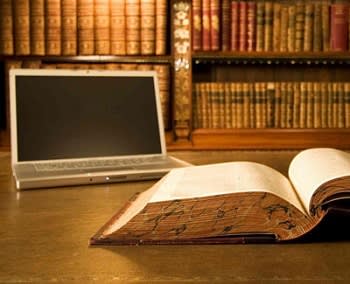 The CETA University School of Tourism is a Center with international prestige And pioneer in the field of tourist training with more than 40 years of experience. Experience accumulated during years of work in Training and research in the field of tourism Which allows us to offer answers and solutions to the needs of tourism companies in an increasingly dynamic, open and competitive environment.
CETA Offers and imparts a High level tourist training, Personalized, specialized and versatile, using modern pedagogical methods focused on the personal and professional development of our students, fostering communication skills, relationship and teamwork, as well as their creativity, imagination and initiative.
We work closely with more than 500 tourist companies from around the world, Who have signed agreements with our school to offer work practices in different areas of the tourism sector with a significant job exchange for our students and alumni.
To meet the needs of a very dynamic and continuously evolving sector, CETA Promotes among its students and alumni the continuous training With an offer of masters and courses of specialization and postgraduate of recognized prestige in the tourist field, both nationally and internationally.
CETA Research, language training and, as Center associated with the UNESCO school network, Respect for cultural and natural heritage. This set of factors CETA University School of Tourism A pioneer center in tourism research and with a Excellent projection at national and international level.
Why CETA?
We give you 15 reasons to choose CETA As a university center where to study your tourism studies:
Flexible, personalized and updated curriculum that enhances students' communication, teamwork, creativity and imagination.
The practice taught in the various specialty areas has a real impact on society.
CETA is part of the network of schools associated with UNESCO , created in 1953 with the aim of promoting international cooperation and peace.
CETA participates in research projects related to tourism and other disciplines such as cultural heritage management, sociology, environment, economics, marketing and communication.
We prioritize small groups, reinforcement tutorials and the use of new technologies.
We consolidate language learning with international exchange programs.
Numerous exchange programs that allow our students to do part of their studies in foreign countries.
Job and Practice Exchange with a high index of placement and focused on all sectors and subsectors of the tourism and leisure industry.
Strong commitment to internationalization and multiculturalism : our center coexists students of different nationalities and backgrounds.
Our pedagogical projects include values ​​related to defense and protection of natural and cultural heritage , values ​​that we consider a fundamental aspect in the training of tourism professionals.
Guidance and tutorials are fully customized.
Our commitment is that students receive hands-on training from the top professionals in the sector through weekly lectures.
Our commitment that the students are in constant contact with tourism thanks to the "CETA exits".
CETA participates in different international projects as member of the Chamber of Commerce of Barcelona.
Our commitment to carry out with our students a personal study of professional development to enhance their skills and as a collaborating entity of Tourism in Barcelona, ​​the Ibero-American Commission, the Foreign Trade Institute and the Trade Operations Center of Catalonia in university training in The areas of tourism and leisure.
AQU AND CETA
WHAT IS AQU?
L'Agència de Qualitat del Sistema Universitari de Catalunya, AQU Catalunya, is the main instrument for the Promotion and evaluation of quality in the Catalan university system. AQU Cataluña has as its objective the evaluation, accreditation and quality certification in the field of universities and higher education centers in Catalonia (studies, teaching staff, center and services).
AQU Cataluña is the founder and full member of the European Association for Quality Assurance in Higher Education (ENQA) and has been one of the first three agencies in the European Quaility Assurance Register for Higher Education (EQAR). He is a member of the International Network for Quality Assurance Agencies in Higher Education (INQAAHE), the Spanish Network of University Quality Agencies (REACU) and the European Consortium for Accreditation (ECA). It has been the first European quality agency certified with ISO.
AQU Cataluña has its origins in the Agència per a Qualitat consortium of the Universitat a Catalunya System, which was founded on 29 October 1996 and was the first quality agency to be created in Spain. With the approval of Llei d'Universitats de Catalunya of 2003, the consortium became the current Agency.
The signing of the collaboration agreement between CETA, the UdG and AQU was signed in 2013. Likewise, the AQU Assessment in CETA program was carried out in 2009.
According to the latest AQU data on the 2007 CETA promotion and its current employment relationship, we obtain the following interesting data, which reflect the Good philosophy of CETA and the quality of its teaching: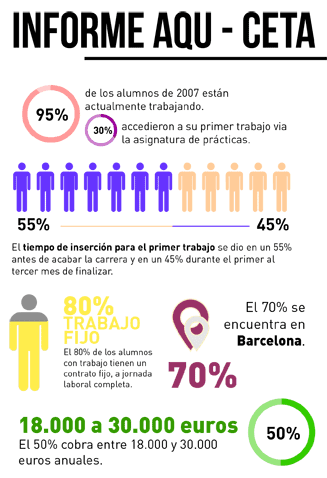 Locations
Barcelona
Address
Carrer de Sabino Arana, 42-44
08028
Barcelona
,
Catalonia
,
Spain