Riga Graduate School of Law
International studies in law and beyond
Riga Graduate School of Law (RGSL) is a specialised law school located in Northern Europe offering interdisciplinary Bachelor's and Master's studies in law, which can be combined with business, international relations, finance and policy. Founded in 1998, the goal of RGSL is to provide strong international, academic education within the context of an ever-changing and interconnected world.
International study environment
Join an active community of students from 30 different countries. Study in English with an international faculty of academics and practitioners. Enjoy Erasmus exchange studies at our partner universities across Europe and internship opportunities as well.
Interdisciplinary Bachelor's programmes
Studies in law can be undertaken in combination with either business or diplomacy in our two LL.B programmes. By combining two disciplines in the one programme, you will receive a broad and international perspective on law, which includes a focus on business management or international relations. Our programmes lead to a recognised and competitive law degree.
Individual learning experience
RGSL is a smaller, specialised university offering a tailored and stimulating learning environment. Students enjoy our small classes, which allow room for debate and individual questions and ease contact with fellow students and faculty members. Our study approach allows students to develop critical thinking, problem-solving, and adaptability. We value an open and international culture and encourage students to develop their potential and make the most of their studies.
Further study: Master's programmes
RGSL offers LL.Ms in International & EU Law, EU Law & Policy, Public International Law & Human Rights, Transborder Commercial Law, and Law & Finance.
Student life
RGSL offers a dynamic social life and extracurricular activities in addition to intensive study. These include guest lectures by prominent academics and professionals, Student Association activities, sports games, and an annual Christmas ball. Top students receive the Student Excellence Award which provides a partial discount on the tuition fee. We help our students find relevant internships and professional networking opportunities.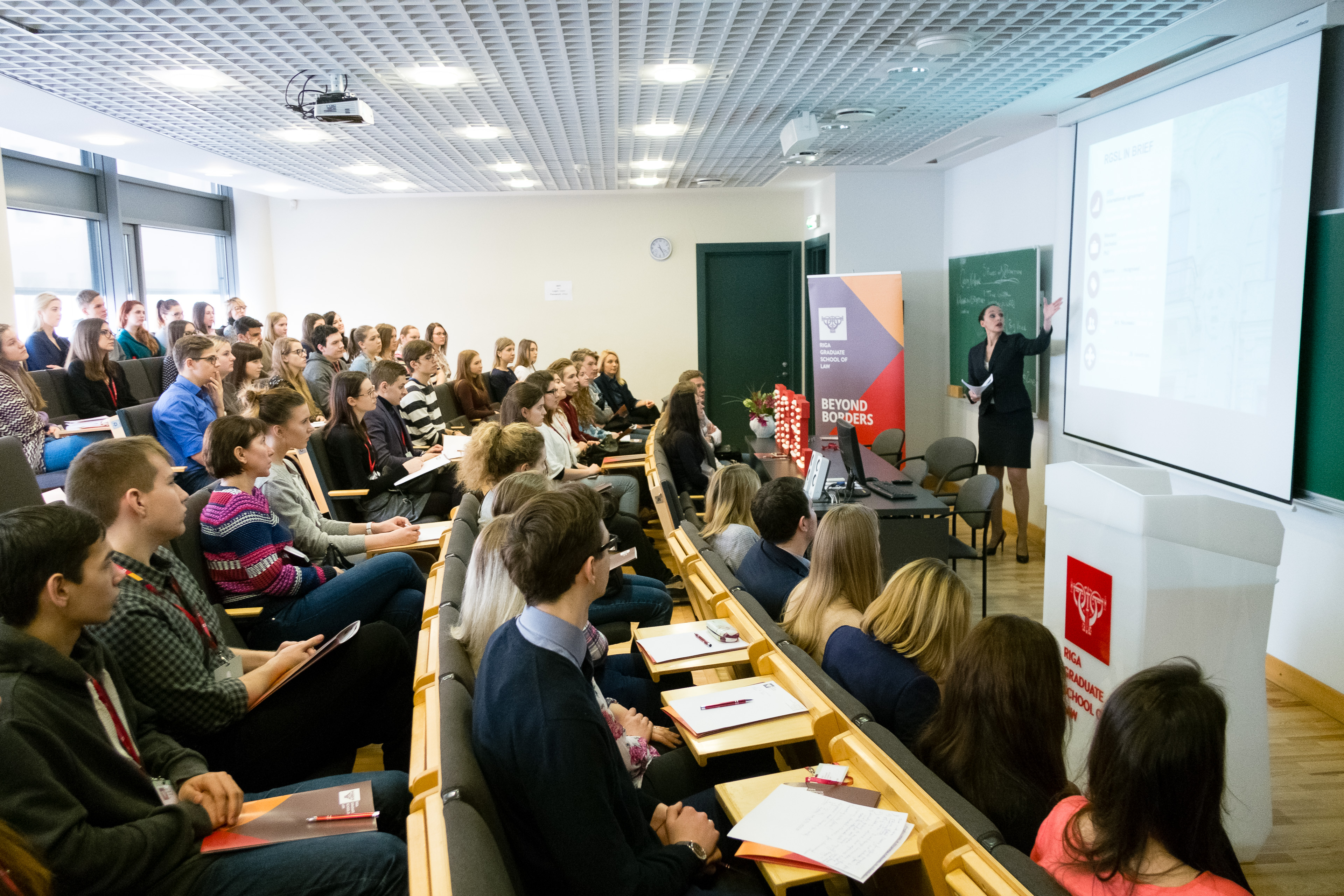 Location & campus
RGSL is located in the art nouveau district of central Riga. Study facilities are of the highest standard and include fully equipped auditoriums and a student lounge. Many teaching facilities are shared with the Stockholm School of Economics in Riga, providing excellent networking and socialising opportunities.
Research & Law Library
RGSL has one of the top collections of legal materials in the Baltic region, with access to legal databases, law books, legal journals and yearbooks.
Living in Riga
Riga is a dynamic multicultural capital in Northern Europe. It is home to more than 6,000 international students who enjoy a quality education, a rich cultural life, great entertainment venues, very fast internet and outdoor adventures. Living expenses are, on average, lower than in other European capital cities.
Moving & accommodation
Riga has great transport connections to other European cities and can be reached using budget airlines and bus services. As RGSL is a compact, human-scale university, it can assist all of its students in finding a suitable place to live in Riga.
Connect with us on social media and follow the RGSL family
WWW: rgsl.lv
FB: @rgsl.lv
TW: @RGSL_LV
Instagram: myrgsl
Student testimony
"Most RGSL alumni, including me, like to say that RGSL teaches you a certain "way of thinking" rather than just basic academic knowledge. By using intellectually stimulating and practical approaches, this broad and open-minded "way of thinking" has been the key quality RGSL has given me as a young professional."
Marta Cera, Latvia
Law & Business
graduate
2015
"RGSL is a place where you, apart from your regular studies, are constantly given opportunities to participate in events such as discussions, workshops and moot courts where you add to your professional skills and network with already established professionals in the field, which is one of the many prerequisites for a successful career."
Tīna Vecvagare, Latvia
Law & Diplomacy
3rd-year student
Programs taught in:
English