Why Independent College
Because we are committed to academic excellence
We are determined to provide all of our students with a rewarding, professional, and career-focused education of the very highest quality. Our faculty members are committed to maintaining academic excellence not just through great teaching but through personal, individual support.
Because our tuition is second to none
Our lecturers and tutors are among the most respected academics in their fields. Our lecturers are people with real experience and industry insight. Class sizes are small so that everyone can contribute to debate and discussion and nobody gets left behind.
Because our results are some of the best in the country
The School of Law is the largest provider in the State for the delivery of preparation programmes for the entrance examinations to the Law Society of Ireland. For four of the past five years, students of this programme have finished 1st overall in these state-wide entrance examinations. The School's preparation programmes for the Entrance Examinations to the King's Inns and the New York Bar Examinations have proven to be highly successful.
Because we are in the heart of a vibrant city centre
Independent College Dublin has the perfect location for student life in Dublin: we are right in the very centre of the city, surrounded by cultural, academic and leisure attractions.
Because this is an ideal learning environment
Our lecture theatres are purpose-built to offer the best in comfort, style and technology: they are all air-conditioned and have wireless high-speed internet and networking access together with the latest presentation and video-conferencing equipment.
Because your qualification will be internationally recognised
Independent College Dublin programmes are validated to the highest standards both nationally and internationally. Your new qualification stands for academic achievement but also a deeper understanding of your subject in practical terms and this is highly valued in your field.
Because you will enjoy your time here
Whatever subject and qualification you choose, we promise you will have an interesting and thought-provoking learning experience in which you will look forward to every class. Your student life will be enriched not just by the college and the course, but by new friends, colleagues and a wonderful city.
About Independent College
As President of Independent College Dublin, I am delighted that you are considering furthering your academic studies with our college.
Independent College Dublin's primary goal is to bring our students through learning programmes that are relevant, stay with you forever, are the foundations of your future success and result in qualifications that are highly respected in your chosen field.
Upon completion, your undergraduate, postgraduate or professional award in the various disciplines will be recognised wherever you go, both in Ireland and overseas.
We are a goal-focused, career-orientated college. We pride ourselves on our personalised tuition, delivered to the highest academic standards in an interactive learning environment by highly qualified and friendly teaching staff.
Your time at Independent College Dublin, should you enrol with us, will be an enjoyable and academically rewarding one as you prepare for the next chapter in your life. You will learn from some of the most industry experienced and respected lecturers in your field in what is an intellectually vibrant academic community. It will provide you not just with the stepping stone to your chosen career but also with life lessons and friendships and connections that will last well into the future.
We look forward to welcoming you as part of our next intake of students.
Padraig Hourigan
CEO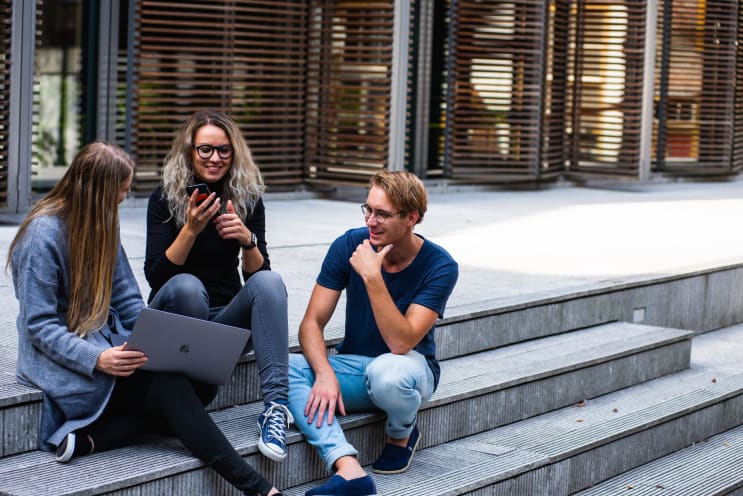 Buro Millennial / Pexels
Student Services
Independent College Dublin's positive, high-energy environment, deeply committed faculty and staff and a strong network of support systems make it the perfect place for you to find your niche – academically, socially, and professionally.
Academic Induction
Attending college for the first time can be an exciting prospect. However, many also find the prospect of moving from the second level to a third level institution can be a daunting experience. At Independent College Dublin we want to ensure that this transition is as painless as possible. For this reason, we organise student induction before the commencement of each undergraduate programme. This allows all students the opportunity to meet their Head of Faculty Manager, Course Coordinator and their fellow students.
Academic Support
Each academic programme has a dedicated staff member who deals with any academic issues which students may encounter. The faculty administrative staff have an open office policy from 9.30 am - 17.30 pm Monday to Friday.
Career Advice
Independent College Dublin is aware of the ever-increasing challenges facing students. A good CV is vital when applying for jobs. It is also very important to prepare for interviews. Our Careers Officer will assist final year students in writing your C.V and offer guidance and advice in preparing for your interview.
Computing Services
Access to services such as Moodle, online resources and journals, wireless internet access, and online storage are provided on a complimentary basis to all registered students.
Student & Campus Life
Whether you are looking for sports and fitness, student organisations, local nightlife or student activities, Independent College Dublin offers you great resources and access to the finest facilities. Independent College Dublin's city centre location has a wealth of amenities on our doorstep.
Student Discounts
Use your Independent College Dublin student card to avail of these exclusive discounts:
Energie Fitness, Clarendon Street
Tower Records – 10%
Hughes & Hughes Books- 10%
The Farm, Dawson Street- 10%
KC Peaches, Nassau Street – 10% and loyalty card scheme
Cafe Sol, Dawson Street- 15% and loyalty card scheme
Hickey's Pharmacy- 15% off prescriptions and 10% off other items
Doctor, Suffolk Street- €10 off consultation fee
Student Welfare
We offer advice and support to all students in the College. Whether it is concerned about examinations, assignments, accommodation or finances, the Student Services Officer is available to help with your concerns. However, if you require additional assistance and wish to speak to the College Counsellor, you will be provided with a referral.
This service is free and completely confidential.
International Student Services
Specific services are available for international students before they travel to Ireland and, post entry, in order to assist with their transition to Ireland.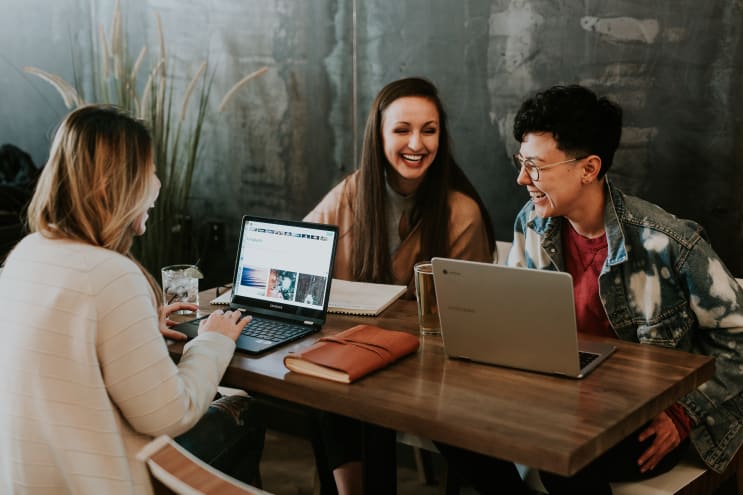 Brooke Cagle / Unsplash
Our Location
Independent Colleges' main campus is located at The Steelworks, Foley Street, Dublin 1. The Steelworks is an impressive five-storey building with 40 classrooms & floor to ceiling window atrium, rooftop restaurant & outdoor terrace, library, computer facilities overlooking private landscaped development and with stunning views of the city.
The Steelworks complex is located in the city centre between Talbot St and Amiens St in the IFSC vicinity. The campus is approximately 600 metres from the main shopping area of Henry St & O'Connell St and is superbly served for transport with easy access to trains, Luas tramline and city and regional bus terminals.
Living Here
Dublin has a wide choice of apartments, bed-sits, lodgings, guesthouses and hostels where students make their home every year. There is so much to do and see with thousands of traditional and contemporary pubs, restaurants and clubs. The city has more than its fair share of museums, galleries and historical buildings too.
Sports
Croke Park is just North of the river and the home to Ireland's national sports of hurling and Gaelic football. With a capacity of 82,300, it is the third-largest stadium in Europe. Rugby is played in the stunning new Aviva Stadium on the Southside while there are hundreds of soccer, rugby, Gaelic football, hurling, tennis, swimming and other clubs all over the city.
The Arts
Dublin has a world-famous literary history, having produced many prominent literary figures, including Nobel laureates William Butler Yeats, George Bernard Shaw and Samuel Beckett. Other influential writers and playwrights include Oscar Wilde, Jonathan Swift and Bram Stoker. In July 2010, Dublin was named UNESCO City of Literature, Edinburgh, Melbourne and Iowa City with the permanent title. There are several theatres within the city centre and the best known include the Gaiety, Abbey, Olympia, Gate and Grand Canal.
Entertainment
Dublin has an exciting nightlife and is reputedly one of Europe's most youthful cities, with an estimate of 50% of citizens being younger than 25. There are many pubs across the city centre, with the area around St. Stephen's green and Grafton Street, especially Harcourt Street, Camden Street, Wexford Street and Leeson Street, having the most popular nightclubs and pubs. The best-known area for nightlife is Temple Bar, south of the River Liffey. Live music is popularly played on streets and at venues throughout Dublin in general.
Helena Lopes / Pexels
Locations
Dublin
Address
The Steelworks, Foley Street
D01 X997
Dublin
,
County Dublin
,
Ireland