Häme University of Applied Sciences (HAMK)
Home ›
Finland ›
Häme University of Applied Sciences (HAMK)
Welcome to HAMK
Häme University of Applied Sciences (HAMK) is a multidisciplinary higher education institution situated centrally in the most populated area of southern Finland. HAMK offers inspiring higher education and customer-oriented applied research.
Häme University of Applied Sciences is authorised by the Government of Finland and is situated centrally in the most populated area of the country, southern Finland, where about half Finland's population live.
HAMK has 7 campuses comprising of:
7200 students
625 teachers and other staff
31-degree programmes, of which 6 are delivered entirely in English
HAMK is one of three member institutions of the Federation of Universities of Applied Sciences (FUAS).
HAMK operates in close cooperation with Häme Vocational Institute (HAMI), which offers further and continuing vocational education and training.
Versatile Education
The international perspective is a natural part of our daily activities. Alongside our Finnish students, we have foreign students from around 70 different countries.
HAMK education:
Bachelor's and master's degrees
Professional teacher education
Continuing and further education
Open university studies
Exchange studies
We have highly qualified teachers and most of them hold a master's degree and around one hundred a doctoral degree. See more about teacher education in Finland.
We use various online tools in studying. Our graduate employment rate is one of the highest in Finland as is also the rate of a graduate who starts their own business.
As Finland in undeniably well known for its strengths in the field of education, here at HAMK we offer educational products for the global market.
We Serve the Needs of Business, Industry and the Public Sector
HAMK has strong links to business and industry. Therefore, we can offer our Finnish and foreign students authentic learning environments and assignments for the benefit of both the students and enterprises.
We carry out customer-oriented applied research and development projects. Our four research units support business and industry within the region.
The HAMK Quality System
The quality systems of Finnish higher education institutions are audited systematically by the Finnish Education Evaluation Centre. HAMK was the first ever higher education institution in Finland to receive the highest status "advanced" for its quality system.
HAMK in a nutshell
70 00 students
600 staff members
50 million Euro budget
7 campuses
5 fields of education
23 bachelor-level degree programmes (4 in English)
7 master-level degree programmes (2 in English)
4 research units 100 other partner universities around the world
Be Sure to Follow Us on Snapchat!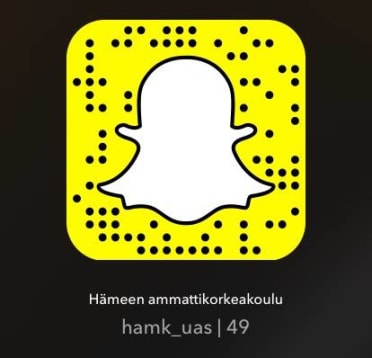 Locations
Hämeenlinna
Address
Visamäentie 35
13101
Hämeenlinna
,
Finland
Riihimäki
Address
Kaartokatu 2
11100
Riihimäki
,
Finland
Valkeakoski
Address
Tietotie 1
37630
Valkeakoski
,
Finland
Forssa
Address
Wahreninkatu 11
30100
Forssa
,
Finland