International School of Tourism and Hospitality Vatel Malaga
The International School of Tourism and Hospitality Vatel Malaga, located in the south of Iberian Peninsula, is a world-renowned institution that prepares students in the acquisition of the knowledge and skills necessary to undertake with responsibility a management position in hospitality establishments.
The academic plan of Vatel is very original and offers an official degree that will welcome you with the opportunity to be directly incorporated into the professional world: the Bachelor Degree in International Hotel Management.
A business school with cutting-edge equipment
Classrooms equipped with audio-visual equipment and beamers
Meeting rooms
Dedicated study rooms for students
Free internet access (Wi-Fi connection)
Student
Internships and jobs department
Student Services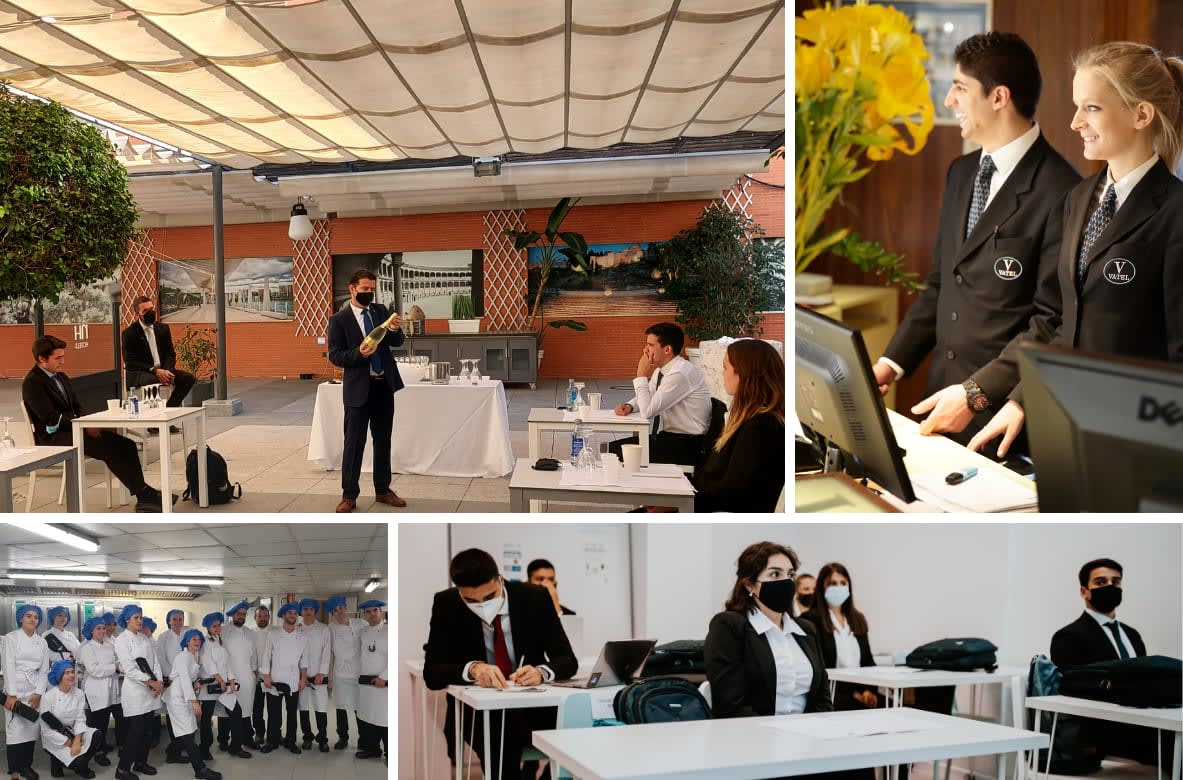 About Vatel Group
Our mission
Preparing the younger generations for a successful career in International Hotel and Tourism Management.
Our history
Alain Sebban opened the first Vatel School in France nearly 40 years ago.
Our development
Vatel has 50 Campuses located in 33 countries, in Europe, the Americas, Asia and Africa.
Our French know-how exports well
Vatel trains senior executives and operational managers in the international hospitality and tourism management industries using an original educational concept based on theoretical courses followed by professional experience.
Our degrees
Students prepare two State-level degrees registered in the French National Directory of Professional Certification (RNCP).
Our alumni
Vateliens make up an interrelated and committed network of 35,000 alumni who work in the most beautiful hotels in the entire world.
Our outreach
Vatel is the 1st Worldwide Business School Group in Hospitality and Tourism Management.
Vater, A Global Network of Hospitality Management Schools and Alumni
Vatel has 50 hospitality management schools located in Europe, in the Americas, in Asia and in Africa. They share the same mission: preparing the younger generations to build their professional futures in the international hospitality and tourism management industries.
Vatel has decided to:
Teach management techniques based on two centuries of history in the hospitality industry, based on high-quality services and customer satisfaction. This includes all cultural aspects of clients, from the country where the hotel is located to the personnel working in it.
Convey the French art of hospitality, recognized all throughout the world as a sign of quality, good taste, and excellence.
Teach French in all non-French speaking countries where our Group operates.
We now have 35,000 alumni who are working throughout the world and who are proud to call themselves Vateliens and to work in the most beautiful hotels on earth.
The Vatel Spirit, life-long values
Vatel's success is based on five pillars. All over the world, our faculty members have learned to:
have deep ties with their students.
create dynamic learning conditions.
convey their know-how and knowledge.
introduce the concept of proper conduct in all situations.
have close relationships with professionals working in hotel and tourism management positions.
Vatel Group's teaching teams are made up equally of professors from universities and professionals who have made a name for themselves in their fields.