Smartly Invest for your Great Future
Didyasarin International College (DRIC) is the first private international college in the South of Thailand. The college is located in Hat Yai City, urbanized and commercially significant area, in which the border with Malaysia is 45 kilometers away, and the International Airport is 15 kilometers away from the town. The cost of living here is reasonable and tempting (approximately USD 225 per month), significantly less than which of Bangkok and Chiang Mai, of course. Benevolent and friendly locals are welcoming foreign people to join this multicultural society! Didyasarin International College (DRIC) is determined to contribute and respond to the needs of the society by producing the high-quality graduates and research. Our mission is also to extend academic services to communities, preserve of Thai arts and culture under effective administration and participative management, together with applications of modern innovations and technology. DRIC has aimed to be not only an institution that provides higher education to the community but also emphasizes students to carefully utilize thoughts, knowledge, and ability in a righteous light. DRIC strives to produce professional graduates for the good of society with the highest education and research, as well as services to communities with applications of modern innovations and technology. Currently, DRIC is granting 200 scholarships for eligible students to celebrate its 20th Anniversary. DRIC is a college of students' choice to enroll in and acquire a proper education for becoming a knowledgeable and experienced individual. DRIC graduates would help create and develop the society. You are welcome to come and join us!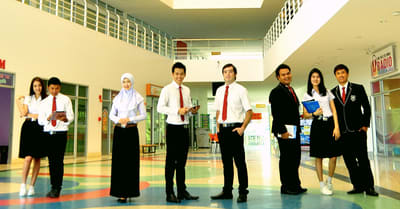 Exciting Learning Experience!
DRIC provides all students with the "Student Mobility Programs" in which students have the opportunity to study in one other country for up to one year! This is the time for the students to explore one other culture and learning experiences! Also, the "Cooperative Education Program" for all student to experience practical working life prior to graduation. The program, commonly known as a "co-op", provides academic credit for structured job experience. The program helps enhance students' vocational experience and skills in properly adapting theories into practice. It is taking on new importance in helping young people to make experiential learning initiatives! "DRIC aims to produce graduates of international standards as world citizens, who are equipped with strong moral and ethical character, and exceptional capabilities, and who are able to respond to the rapid changes and needs in the regional socio-economic. DRIC graduates are the people who know how to think, uphold moral values, and be successful."