Program Description
The projections of the World Tourism Organization (UNWTO) indicate that by the year 2030 there will be 1,800 million the arrival of international tourists, that is to say that around 5 million people will cross international borders every day for reasons of leisure, for professional reasons or for other purposes, such as visiting friends and family.
This growth requires a high level of quality in the provision of services in the sector, with the support of a solid and true university education, which provides qualified professionals who contribute to maintain and improve the levels of competitiveness of this sector.
If you study the Degree in Tourism and Hospitality at UADE, you will receive a comprehensive and innovative vision that aims to obtain knowledge and skills to perform in different tourism and accommodation organizations, such as marketing, planning, public relations, promotion, driving and creation of travel agencies, hotels, gastronomy, transport and leisure.
The competitive advantages of the Degree in Tourism and Hospitality at UADE are:
It is the only race in Argentina certified and recognized internationally by the UNWTO , a specialized agency of the United Nations (UN)

. This certification ensures you learn everything you need to perform in the world of tourism and hospitality anywhere in the world.

It is the only race in Argentina that has a School Hotel located in the city of Pinamar and a School Residence

in the urban campus in Buenos Aires, where practical subjects are taken. This modality allows to learn while performing real tasks in each of the operational and hotel management areas.

Educational trips

are made

for a day, a weekend and 10 days, using both land and air transport. You will become the manager of all the activities that make up a tourist trip: promotion, sale, contracting of services, payments, coordination of the whole trip, attention of real passengers, etc.

The degree has agreements to carry out work internships (internships) in different public and private management organizations. You will be able to carry out educational exchanges in prestigious European universities, in the USA and in other countries of the American continent

, which will give you international professional experience.

You will learn to use the management and reservation systems in force in the tourism business, AMADEUS, SABER and WINPAX, which will help you to have a rapid labor insertion.
Mission
"The Bachelor in Tourism and Hospitality has the mission of training professionals in the field of Hospitality, within the framework of the principles established in the Global Code of Ethics of Tourism, through the teaching, creation and dissemination of knowledge for the development of organizations , companies and the general welfare of society ".
Profile and scope
Profile
As a Bachelor of Tourism and Hospitality you will be a professional trained to develop in different areas of tourism activity both in private companies and in the public function since the study plans have been designed and adapted to understand and view this phenomenon from a global perspective.
You will have the skills to run a Travel, accommodation, assistance or transportation company, culminating with the development of your own tourism services company.
At the same time, you can act as a consultant for state or private organizations, advising on the generation of programs and policies that will lead to the best development of the activity.
In this way, the professional training that you will be acquiring from the first years with subjects related to the career, will allow you a wide labor insertion since you are studying what the market needs.
Reaches
Labor field
As a Bachelor of Tourism and Hospitality you can practice your profession in different fields, developing the following tasks:
Investigate, diagnose and promote tourism through plans, projects and development programs.

Participate in tourism development projects of great importance.

Provide assistance and advice to the tourism sector through appropriate technical procedures including analysis of the impact of its use.

Advise, plan and execute tourism communication plans.

Determine the quality criteria of services.

Organize and direct product development, commercial or research departments.

Select and implement quality operating systems.

Manage companies that provide tourist services or hotel services

Create your own tourism services company

Competitive advantages
Modern curriculum, updated according to the evolution of the activity in the country.

University education that promotes the development of the entrepreneurial initiative in the professional.

Team of professors integrated by professionals with extensive work experience in the activity

Excellent infrastructure, own laboratories with more than 300 computers and a great diversity of software and hardware.

Flexible schedules that allow studying and working.

Internship agreement with companies.

Participation in extracurricular projects.

Travel Workshops: students make trips to different destinations in the country, acting as organizers of the same.

Internships at the Hotel Escuela de la Universidad.

Curriculum
First year
Introduction to Hospitality
History of Civilization
Introduction to the Hospitality Company
Travel Workshop I
Language, Logic and Argumentation
History of Universal Art
Writing and Speaking
Tourist Geography of Europe and Asia
Accounting Management of the Hospitality Company
Theory of Reception and Housekeeping (Annual)
Second year

English I

Receptive Travel and Tourism Agency

Portuguese I

Social psychology

Tourist Geography of Africa and Oceania

History of Argentina and Latin America

Marketing Services for the Hospitality Industry

IT Systems and Networks Applied to Tourism

Food and Beverage Administration and Restoration Techniques (Annual)

Travel Workshop II (Annual)
Third year
Workshop of Tango and Folklore
Protocol, Ceremonial and Organization of Events
Sustainable Tourism
English II
Portuguese II
Formulation and Evaluation of Tourist Projects and Hoteliers
Micro and Macroeconomics of Tourism
Tourist Geography of America and Argentina
Travel Workshop III (Annual)

Administration of Accommodation Companies (Annual)

Intermediate degree: University Technician in Tourism and Hospitality
Fourth year
English III
Quality Standards and Environmental Management of Accommodation Companies
Portuguese III
Tourism Law
Introduction to Public Relations
Final project
Philosophy and Ethics
Research Techniques Applied to Tourism
Tourism Policy and Planning
Cultural heritage


Last updated Mar 2020
About the School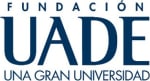 UADE es una institución con 50 años de actividad en la enseñanza universitaria, que se concibe, nace y desarrolla desde una perspectiva de gestión global. Fue creada con el objeto de formar profesiona ... Read More
UADE es una institución con 50 años de actividad en la enseñanza universitaria, que se concibe, nace y desarrolla desde una perspectiva de gestión global. Fue creada con el objeto de formar profesionales que, por medio de carreras innovadoras, se adecuaran a las crecientes necesidades de las diferentes industrias.
Read less