Program Description
Biology
Biology is the study of life in all of its variety and complexity. Biologists approach the study of life at levels ranging from molecular biology and physiology to ecology and evolution. Students of biology must each find the unique niche within this diverse field that best suits her or his passions.
Why Biology at SFU?
Students First. The Biology Program at SFU is designed with the uniqueness of each student in mind. Our department provides customizable degree programs and personal academic advising by biology faculty.
Small Class Sizes, a tight-knit community of students, and opportunities for students to engage in novel research with faculty mentors.
High Success Rates. Many of our graduates go on to graduate schools and professional schools, while others use their bachelor degree to pursue careers in research, education, wildlife management, medical laboratories, as well as aquaria and zoos.
Biology Department Learning Objectives
While completing their degrees in the Saint Francis University Biology program, our students achieve the following learning objectives:
Employ the scientific method, including the use of discipline-specific techniques, to discover and validate biological knowledge.
Demonstrate scientific literacy through reading, writing, presenting, and discussing research.
Demonstrate knowledge of how atoms and molecules interact to permit the function of living systems, and how cells sense, control, and respond to stimuli in their environments.
Demonstrate knowledge of molecular genetics and how this leads to the expression and inheritance of traits.
Explain how organisms reproduce and develop, how their anatomical structure permits function, how they maintain internal conditions, and how they sense and respond to external stimuli, across the full range of biological diversity.
Describe how evolution by natural selection explains the unity and diversity of life on earth, and articulate how organisms interact at the population, community, and ecosystem levels.
Why Study Biology?
Biologists are inquisitive professionals who seek to learn about the nature of life. Do you enjoy learning about animals or plants? Do you wonder how organisms in the field interact with their neighbors and their surroundings? Do you want to use hi-tech laboratory equipment to learn about the world of molecules and cells that lie within each us? Do you love all of the sciences? Biologists use tools from physics, chemistry, psychology, and even economics when trying to explain and understand the structure and function of living things.
General Biology Majors
Our cornerstone programs are our two general biology degree programs. We offer a B.A. or B.S. in Biology, each of which allows considerable customization by the student while ensuring broad training across biology. (NOTE: Specializations and concentrations are also available.)
Biology, B.S.
A flexible program that encourages broad training in biology, while allowing students to customize the program to their interests.
Biology, B.A.
Flexible like the Biology, B.S. degree, but designed for students who wish to earn a double major, a minor, or a pre-law concentration.
Curriculum: Biology, B.S.
The Biology, B.S. degree provides training to students across all major fields of the biological sciences, including molecular and cellular biology, organismal biology, ecology, and evolution. The requirements include a core curriculum common to all biology majors, as well as electives that are selected from clusters that represent major levels of analysis within the biological sciences. This program provides considerable flexibility to help students prepare for a variety of career paths in the biological sciences.
Concentrations in Biology, B.S. include:
Biology, B.S., Ecology & Environmental Biology Concentration
Biology, B.S., Marine Biology Concentration
Biology, B.S., Molecular Biology Concentration
Biology, B.S., Pre-Medicine Concentration (Pre-Dental, Pre-Medical, Pre-Optometry, Pre-Pharmacy, Pre-Podiatry, Pre-Veterinary)
Biology, B.S., Secondary Education Concentration or Biology, B.S., Secondary Education Concentration/Special Education Concentration
Biology Major Core Curriculum:
BIOL 110 - Introduction to Biology: Evolution, Ecology, and Plant Biology
BIOL 111 - Introduction to Biology: Molecules, Cells, and Animal Physiology
BIOL 131 - Biology Freshman Seminar
BIOL 231 - Biology Sophomore Seminar
BIOL 301 - Genetics
BIOL 331 - Biology Junior Seminar
BIOL 402 - Evolution
BIOL 431 - Senior Seminar
Biology Clusters
Select at least 18 additional credits from the list of courses below, including at least one course from each of the three biology clusters. At least four of these additional courses must have a laboratory component.
Molecules and Cells
BIOL 251 - Bioinformatics
BIOL 302 - General Microbiology
BIOL 305 - Immunology
BIOL 401 - Cell and Molecular Biology
BIOL 405 - Biochemistry
BIOL 430 - Advanced Laboratory Methods in Molecular Biology
Organismal Biology
BIOL 204 - Invertebrate Zoology
BIOL 211 - Comparative Vertebrate Anatomy
BIOL 212 - Developmental Biology
BIOL 218 - Marine Biology
BIOL 306 - Animal Nutrition
BIOL 403 - Advanced Botany
BIOL 406 - Vertebrate Physiology
Ecology
BIOL 203 - Ecology
BIOL 208 - Animal Behavior
BIOL 220 - Conservation Biology
BIOL 320 - Vertebrate Zoology
BIOL 322 - Field Biology
BIOL 326 - Freshwater Aquatic Biology
Other Optional Courses:
The following courses are not listed in the clusters above, but may be used toward the required 18 additional credits in biology:
BIOL 150 - Aquarium Maintenance (maximum 1 credit)
BIOL 194/294/394/494 Biological Research
Any 300- or 400- level Biology courses
Collateral Requirements:
MATH 112 - Calculus or
MATH 121 - Calculus with Analytic Geometry I
One of the following statistics courses:
BIOL 315 - Biostatistics or
MATH 215 - Introductory Statistics or
STAT 205 - Essentials of Statistics
PHYS 104 - An Introduction to Physics I and
PHYS 105 - An Introduction to Physics II
or
PHYS 121 - General Physics I and
PHYS 122 - General Physics II
CHEM 121 - General Chemistry I
CHEM 122 - General Chemistry II
CHEM 221 - Organic Chemistry I
CHEM 222 - Organic Chemistry II
Biology Career Opportunities
"What can I do with a degree in Biology?"
Biology is a diverse field of study, with a wide range of career opportunities. Below is a sampling of career options that our students have pursued.
Research: Basic and Applied
Major Areas of Biological Research
Anatomy
Animal Behavior
Biochemistry
Bioinformatics
Biological Engineering
Biophysics
Cell Biology
Conservation Biology
Ecology
Evolutionary Biology
Genetics
Genomics & Proteomics
Immunology
Marine Biology
Microbiology
Molecular Biology
Neuroscience
Physiology
Plant Biology
Systematics & Taxonomy
Virology
Zoology
Who Hires Biologists?
Colleges and Universities
Private Research Institutions and Foundations
Federal and State Government

National Institutes of Health
National Science Foundation
Centers for Disease Control and Prevention
Food and Drug Administration
Environmental Protection Agency
Department of Agriculture
Armed Services

Healthcare, pharmaceutical, and agricultural industries
Clinics and Hospitals
Zoos and Aquaria
Qualifications
Students with a B.S. in Biology are qualified to work as laboratory technicians, assistants, or technologists. These jobs can pay well and offer excellent stability, particularly in industry.
A Master's degree will allow more oversight and control, greater competitiveness for positions, and an increased range of career options
A Ph.D., as well as post-doctoral training, is typically required for high-level research positions in industry or academics.
Some of the Graduates Schools Our Alumni Have Attended
Case Western Reserve University
Drexel University
Indiana University of Pennsylvania
George Mason University
Georgetown University
Mississippi State University
Nicholls State University
Penn State University
Shippensburg University
University of California, Davis
University of Missouri-St. Louis
West Virginia University
Healthcare
Professional Schools that our students have attended in recent years.
Medicine
The Commonwealth Medical College
Edward Via College of Osteopathic Medicine
Griffith University School of Medicine, Australia
Kentucky College of Osteopathic Medicine
Lake Erie College of Osteopathic Medicine
Nova Southeastern College of Osteopathic Medicine
Penn State College of Medicine, Hershey
Philadelphia College of Osteopathic Medicine
Temple University
University of Queensland School of Medicine, Australia
West Virginia School of Osteopathic Medicine
Dentistry
Optometry
Salus University, Pennsylvania College of Optometry
Pharmacy
Lake Erie College of Osteopathic Medicine
Mylan School of Pharmacy, Duquesne University
School of Pharmacy, University of Charleston
Podiatry
Kent State University College of Podiatric Medicine
Veterinary Medicine
Ohio State University
Iowa State University
Medical Laboratory Science
Conemaugh School of Medical Technology
UPMC Altoona School of Medical Technology/Medical Laboratory Science
Education
Teachers and Professors
Secondary Education
Elementary Education
Post-secondary Education
Naturalist Educators
Zoos, Aquaria, Museums, Aviaries

National Aviary, Pittsburgh
Pittsburgh Zoo and Aquarium

Theme parks and resorts
non-classroom education: camps, education voyages, and ecotourism.
SCUBA Instruction
Wildlife and Environmental Management
Environmental assessment and monitoring
Fisheries management
Forestry
Wildlife management
Environmental Scientist
Who Are the Employers?
Federal agencies: Environmental Protection Agency, Center for Disease Control
State agencies: Fish and Wildlife, Department of Agriculture, Department of Environmental Protection
Conservancies
Non-profit organizations
Engineering firms
Private contracting firms
Animal Care and Training
Zookeeper
Aquarist
Wildlife rehabilitation and care
Animal Trainer (zoos, aquaria, theme parks, military, private practice)
Law, Business, and Writing
Law & Legislation
Environmental Law
Patent Law
Science Policy Advising
Business
Management
Marketing
Pharmaceutical Sales
Technical instrument sales
Science Writing
Science Journalism
Undergraduate Application Process & Requirements
At Saint Francis, you're more than just a number -- even as soon as we receive your application. We evaluate you as a whole individual, not merely select parts, such as GPA or test scores. We look at how you will contribute to our academic community, the strength of your coursework, extracurricular interests, and unique talents.
Everything you need to start your application can be found here! Detailed instructions, application components, and deadlines.
Four Easy Steps
Step 1: Create a username and password. This will make it easy to save your application, and let you register for SFU events all in one place. P.S. Bookmark the SFU Application site while you're at it!
Step 2: Check your email. You should receive a link to click to confirm your new login.
Step 3: Fill out an application. First-time students may apply anytime, usually after August 1 entering their senior year. To receive full consideration for admission and merit scholarships, it is recommended that students submit a completed application by May 1st of their senior year.

The undergraduate application for admission operates under a rolling admission policy except for the Physician Assistant Science program, which has a Priority Application Date of November 15th. The Occupational Therapy and Physical Therapy program has a Priority Application Date of January 15th.

Step 4: View your "Checklist" for additional requirements.
Official High School Transcripts
Submit your official high school transcript showing work completed through your junior year in addition to a copy your senior class schedule. All applicants should submit mid-year grades from their senior year when available.
This can be sent:
From your high school to

Saint Francis University
Office of Admissions
169 Lakeview Drive
PO Box 600
Loretto PA 15940

Through a secure electronic document system transfer such as Parchment.
Standardized Testing
Applicants are required to submit scores from either the SAT I or ACT. Use the codes below to have your official scores sent directly to SFU.
SAT code #2797
ACT code #3682
Writing Sample
A writing sample is required for Occupational Therapy, Physical Therapy, and Physician Assistant Science majors. Please complete an essay explaining (minimum 250 words) your interest in the academic program for which you are applying. Feel free to highlight any experiences you have that demonstrate your interest in the chosen field of study.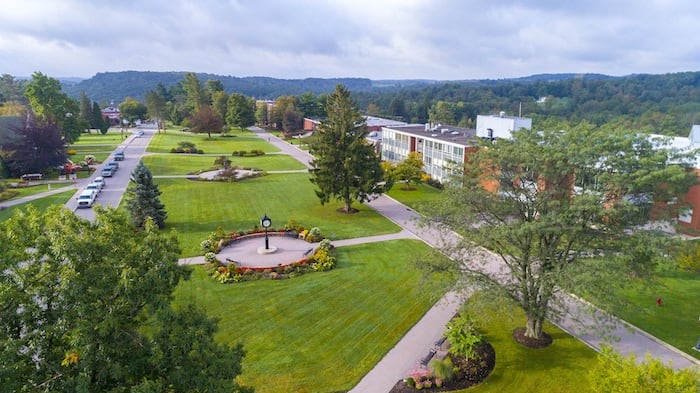 Last updated Sep 2019
About the School
Saint Francis University is one of the oldest Catholic universities in the country, and the oldest celebrating Franciscan values. Our scenic campus sits on a mountain top in Loretto, Pennsylvania, nea ... Read More
Saint Francis University is one of the oldest Catholic universities in the country, and the oldest celebrating Franciscan values. Our scenic campus sits on a mountain top in Loretto, Pennsylvania, near Pittsburgh. Faith, Generosity, respect, discovery, and joy are in our DNA, and we seek to attract students (like you) with a passion to shape the world.
Read less